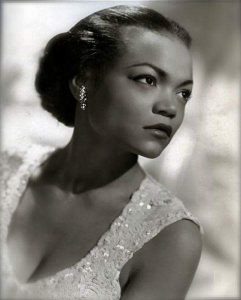 Eartha Kitt (January 17, 1927 – December 25, 2008) was an American singer, actress, dancer, activist, comedian and known for her highly distinctive singing style.
She began her career in 1942 and appeared in the 1945 original Broadway theatre production of the musical Carib Song. She had 6 US Top 30 hits and starred in the third and final season of the television series Batman as Catwoman in 1967. In 1968 she was invited to the White House along with 50 other women because of the work she had been doing with Aborigines in Australia, Canadian Indians & African American's. Her career in America suffered after she made anti-war statements at a White House luncheon regarding the Vietnam War and young black American's being killed in what was widely known as an unwinnable war.
Many artists, entertainers, athletes who use their platform to speak out against immoral situations have been and continue to be black balled and silenced. We must use our platforms, whatever they may be, to stand up for social justice and equality.