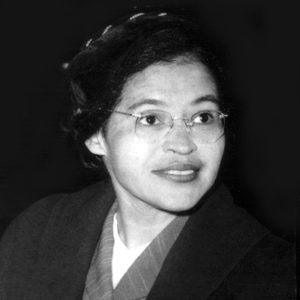 Rosa Louise McCauley Parks (February 4, 1913 – October 24, 2005) was born in Tuskegee Alabama. She was an American activist in the civil rights movement who became the face of the bus boycott in Montgomery.
Rosa Parks received national recognition, including the NAACP's 1979 Spingarn Medal, the Presidential Medal of Freedom, the Congressional Gold Medal. She became the first woman to "Lie In Honor" in the U.S. Capitol Rotunda on October 30th, 2005. The United States Congress recognized her as "The First Lady Of Civil Rights" and "The Mother Of The Freedom Movement" and there's a posthumous statue in the United States Capitol's National Statuary Hall to commemorate her legacy.
Approximately 9 months prior to Rosa Parks, Jeanetta Colvin was the first woman to be arrested for sitting in the front section of the bus followed by Aurelia S. Browder a month later. Susie McDonald and Mary Louise Smith were the other 2 of five plaintiffs in the court case of Browder v. Gayle.