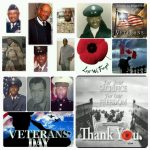 Today we honour the men and women who have served and sacrificed their lives for the freedom we have today.
It's ironic how we can be divided as people and a country, but at the same time come together as one unified military. At the end of the day there is no colour in team, winning or fighting side by side for the preservation of one's life.
One of the most important lessons of war is simple, "we have more in common than we have differences and we are all on the same team fighting for one common goal"… God bless the soldiers!!!