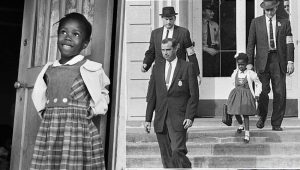 Today we honour the little braveheart Ruby Bridges and shine light on a true hero in this monumental stand off in this divisive era of segregation vs. integration.
Every morning Ruby Bridges faced a very angry and violent mob of white people as she was escorted inside the all-white school, William Frantz Elementary by U.S. Marshalls in the early 1960's.
We celebrate the courage and determination it took to overcome fear and a racist environment to breakthrough the wall of educational segregation.