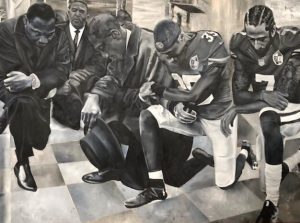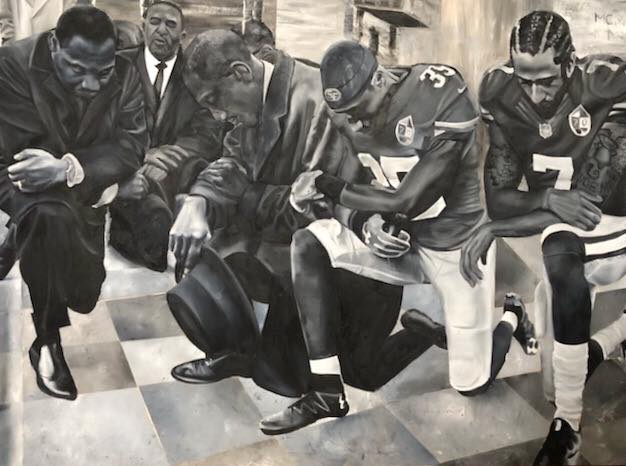 Colin Kaepernick was born November 3, 1987 in Milwaukee, Wisconsin. He is a Collegiate/NFL quarterback and civil rights activist. He played six seasons for the San Francisco 49ers in the National Football League (NFL) and led them to the Super Bowl in 2013.
Although Colin Kaepernick was a professional quarterback in the NFL he is best known for taking a knee in peaceful protest against police brutality towards people of color.  The peaceful protest originally started with Kaepernick sitting during the anthem, but after having a candid conversation with US Army veteran Nate Boyer, together they found a more respectful way to protest. Taking a knee is respected in various religions, the military and is a sign of injury and/or submission in all sports which reflects African-American's sentiments towards the treatment of Black people in America.
Kaepernick alongside Eric Reid filed collusion grievances against the NFL league saying they were black listed because of their peaceful protest during the National Anthem at games. Their grievance was settled out of court for an undisclosed amount. Kaepernick continues to be an activist for social justice and marginalized communities.
---
Why Colin Kaepernick Took A Knee Instead Of Sitting: Colin Kaepernick orchestrated the most peaceful protest in American History and started a movement and at the same time that brought awareness to injustice by simply taking a knee during the singing of the National Anthem. He didn't riot, block traffic, disrupt anyone's business or day and he also didn't infringe on anyone's right to stand, salute, sit, kneel or sing the National Anthem. Yet, much like Dr. Martin Luther King Jr., he has been vilified by some American citizens including the President and blackballed from the NFL.
---
Military Veteran Dale Hansen Unplugged Perspective: Many people have a misunderstanding of the First Amendment. Here is a true patriot who served his country during the Vietnam War with an explanation of the First Amendment, the purpose of Colin Kaepernick's peaceful protest and his right to do so with an empathetic perspective of the struggles Black people have historically faced in America from the beginning… Thank you Dale Hansen for your service. 
---
Colin Kaepernick's Million Dollar Pledge: Today we want to thank and honour Colin Kaepernick for his community investment, the sacrifice he has made and what he has endured in the name of social justice. He fulfilled his promise of donating $1 Million dollars to various community organizations and continues to do so despite already having reached his goal.
Kaepernick completed his pledge to donate One Million Dollars to charities and oppressed communities by launching the "10 For 10" campaign. He made 10 donations of $10,000.00 to 10 different charities with 10 celebrities matching his $10,000.00 Despite being accused by a vocal minority of trying to garner attention for himself his actions have spoken louder than their words.
---
Carling Jackson: Carling is a Humanitarian Athlete Artist from Vancouver, BC Canada who creates custom art work for athletes and celebrities around the world. She's an award winning artist who primarily focuses on contemporary art to effect change and make the world a better place. Please show support for this talented artist to see what art pieces are available for purchase and use this discount code BHM to get 25% off during Black History Month.
"Soul Force" aka King n' Kaep' – Prints Are Available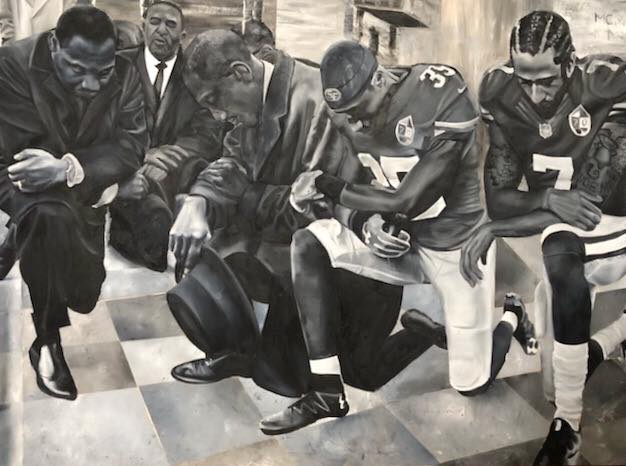 Photo Credit to Carling Jackson Art
Get 25% Off For Black History Month just use the discount code BHM
---
Reflection: Colin Kaepernick isn't the first NFL player to protest injustice, he just happens to be the latest. NFL players have sat in protest prior to Kaepernick taking a knee however none of the previous protests garnered the attention of the 2016 protest. Kaepernick received world wide attention when he took a knee during the National Anthem and it is widely viewed as one of the most effective peaceful protests in American history.
Although politically polarising, Kaepernick's taking a knee didn't block any highways, disrupt traffic, shut down any businesses, spark any riots nor did it infringe on anyone's right to stand and sing the National Anthem however, it triggered an outrage like no other. Ironically the people who were most vocal, saying Kaepernick was disrespecting the flag, were people who were calling themselves patriots however never actually served in the military. Unlike many other protests the simple gesture of taking a knee during the anthem in my opinion was the most effective, least intrusive, non-violent peaceful protest in modern history.
The purpose of Colin Kaepernick taking a knee was to bring awareness to police brutality and the injustice and treatment towards people of color by law enforcement. On May 25th, 2020, the murder of George Floyd by Minneapolis police brought to light the purpose of Colin Kaepernick's peaceful protest and silenced all of the critics of the movement and forced those who turned a blind eye to see the reality people of color face on daily basis.
Thank you Colin Kaepernick for having the courage to take a knee in peaceful protest against police brutality and Rest in Peace George Floyd who lost his life for a greater cause.
---
BLACK LIVES MATTER | I'M WITH KAEPERNICK 7 | END POLICE BRUTALITY
---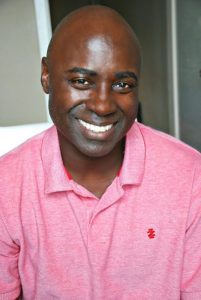 Albert Earl Jr.
Enjoy the video and please share… Thank you!!!
Comments
comments