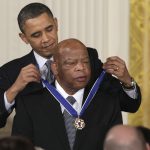 John Robert Lewis (February 21, 1940 – July 17, 2020) was an American politician and civil-rights leader who served in the United States House of Representatives for Georgia's 5th congressional district from 1987 until his death in 2020 from pancreatic cancer. Lewis served as the chairman of the Student Nonviolent Coordinating Committee (SNCC) from 1963 to 1966.
Lewis was one of the "Big Six" leaders of groups who organized the 1963 March on Washington and the last surviving one at the time of his death. He fulfilled many key roles in the civil rights movement and its actions to end legalized racial segregation in the United States. In 1965, Lewis led the Selma to Montgomery marches across the Edmund Pettus Bridge. In an incident which became known as Bloody Sunday, armed Alabama police attacked unarmed civil rights demonstrators, including Lewis, Hosea Williams, and Amelia Boynton.
A member of the Democratic Party, Lewis was first elected to Congress in 1986 and served for 17 terms in the U.S. House of Representatives. Due to his length of service, he became the dean of the Georgia congressional delegation. The district he represented includes the northern three-quarters of Atlanta.
He was a leader of the Democratic Party in the U.S. House of Representatives, serving from 1991 as a Chief Deputy Whip and from 2003 as Senior Chief Deputy Whip. Lewis received many honorary degrees and awards, including the Presidential Medal of Freedom given to him by the first African American President, Barack Obama.
Here is John Lewis giving his famous speech at the March on Washington on August 28, 1963. He was the youngest speaker at this historic event and will forever be remembered as one of the Big Six leaders of the civil rights movement. Please listen closely to the words he spoke as they are just as prevalent today as they were in 1963.
Congressman John Lewis and James Zwerg in a very moving interview speaking on how their relationship started, their experiences together and why they are eternal brothers. What stands out to to me most about this interview is how humble Congressman Lewis is and how endearing these two are towards each other.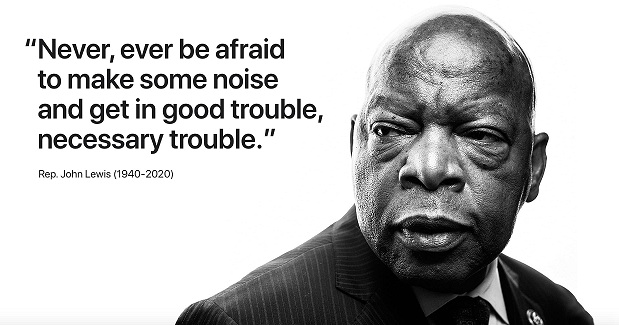 All of us owe Congressman John Lewis a debt of gratitude for his courage and resilience in the fight for liberty, freedom and justice for all people. Today's civil rights movement of the 60's continues today through the Black Lives Matter movement. It is not only our obligation, it is our responsibility as a unified society to continue the fight for total equality. Thank you Congressman Lewis for your love, dedication and your legacy which will forever continue.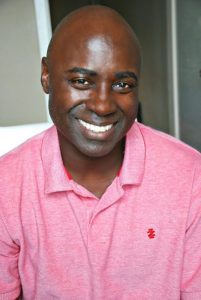 Albert Earl Jr.
Enjoy the video's and please share… Thank you!!!
Comments
comments