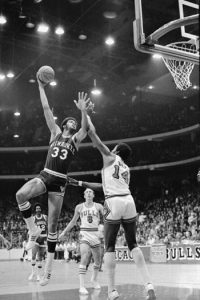 Kareem Abdul-Jabbar (born Ferdinand Lewis Alcindor Jr.; April 16, 1947) is an American retired professional basketball player who played 20 seasons in the National Basketball Association (NBA) for the Milwaukee Bucks and the Los Angeles Lakers. During his career as a center, Abdul-Jabbar was a record six-time NBA Most Valuable Player (MVP), a record 19-time NBA All-Star, a 15-time All-NBA selection, and an 11-time NBA All-Defensive Team member. A member of six NBA championship teams as a player and two more as an assistant coach, Abdul-Jabbar twice was voted NBA Finals MVP. In 1996, he was honored as one of the 50 Greatest Players in NBA History. NBA coach Pat Riley and players Isiah Thomas and Julius Erving have called him the greatest basketball player of all time.
---
After winning 71 consecutive basketball games on his high school team in New York City, Alcindor was recruited by Jerry Norman, the assistant coach of UCLA, where he played for coach John Wooden on three consecutive national championship teams and was a record three-time MVP of the NCAA Tournament. Drafted with the first overall pick by the one-season-old Bucks franchise in the 1969 NBA draft, Alcindor spent six seasons in Milwaukee. After leading the Bucks to its first NBA championship at age 24 in 1971, he took the Muslim name Kareem Abdul-Jabbar. Using his trademark "skyhook" shot, he established himself as one of the league's top scorers. In 1975, he was traded to the Lakers, with whom he played the last 14 seasons of his career and won five additional NBA championships. Abdul-Jabbar's contributions were a key component in the "Showtime" era of Lakers basketball. Over his 20-year NBA career, his team succeeded in making the playoffs 18 times and past the first round in 14 of them; his team reached the NBA Finals 10 times.
---
Though he had studied the Japanese martial art aikido in New York City, Alcindor sunk his teeth into Jeet Kune Do and studied for four years under Bruce Lee from 1967 to 1971. Kareem Abdul-Jabbar said, "Bruce created a jambalaya of martial arts, adding and discarding moves that were less effective. No wasted movements". We thought we would add a little comedy with this scene from Bruce Lee's movie, "Game of Death" featuring Kareem. You gotta love the acting from back in the day (lol)… Good times!!!
---
WE Day UN. T aking place during the conclusion of the 73rd United Nations General Assembly (UNGA), WE Day UN celebrates the year-round local and global acts of service taken by thousands of students from across the region. Designed to enhance a school or community's existing social initiatives or spark new ones, WE Schools provides participants with curriculum, educational resources and action campaigns, encouraging students to further their curricular learning and develop life skills to succeed beyond the classroom. NBA Hall of Famer Kareem Abdul-Jabbar had a major presence at the event, where he not only spoke about social justice and change.
When asked if he thought he would ever see a time where corporate America would stand next to something as polarizing as Colin Kaepernick, he responded, "It makes a real difference when corporate America can see what's going on and support the right side of any issue. Colin Kaepernick is protesting against black people being shot down for no good reason, he has no disrespect in heart for the United States of America.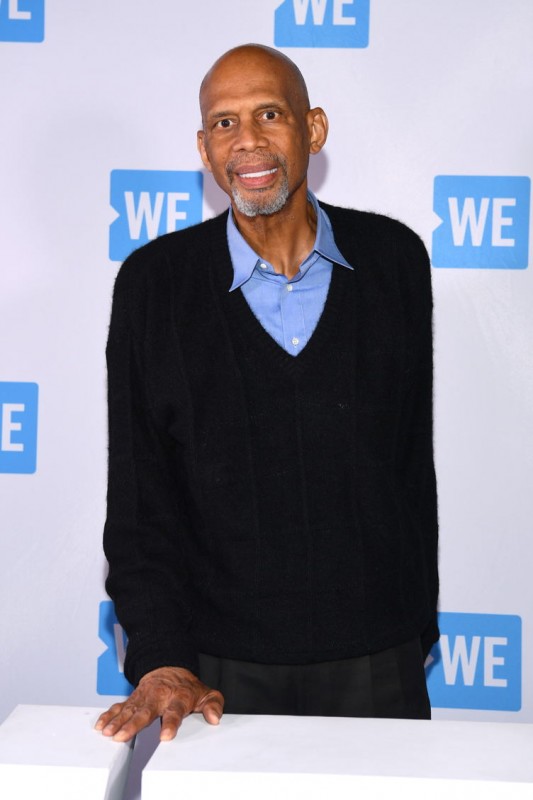 At the time of his retirement in 1989, Abdul-Jabbar was the NBA's all-time leader in points scored (38,387), games played (1,560), minutes played (57,446), field goals made (15,837), field goal attempts (28,307), blocked shots (3,189), defensive rebounds (9,394), career wins (1,074), and personal fouls (4,657). He remains the all-time leader in points scored and career wins. He is ranked third all-time in both rebounds and blocked shots. In 2007, ESPN voted him the greatest center of all time,in 2008, they named him the "greatest player in college basketball history",and in 2016, they named him the second best player in NBA history (behind Michael Jordan). Abdul-Jabbar has also been an actor, a basketball coach, and a best-selling author. In 2012, he was selected by Secretary of State Hillary Clinton to be a U.S. global cultural ambassador.[12] In 2016, President Barack Obama awarded him the Presidential Medal of Freedom. Much like Muhammad Ali was in his sport,  Kareem Abdul-Jabbar is the G.O.A.T. on and off the court. Thank you for the memories and your service towards social justice.
---
Follow Our Black History Month Series: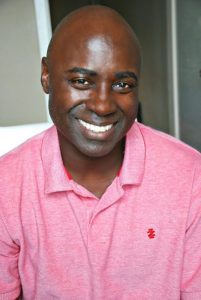 Albert Earl Jr.
Enjoy the video's and please share… Thank you!!!
Comments
comments